There is a lot of misinformation around essential oils for acne. We encourage you to read on to find out how to use them responsibly.
Also read: How to choose the best acne treatment
Biggest Take-Aways:
Here is the honest truth: essential oils alone will not get rid of your acne. In fact, you need to be very careful about using essential oils properly, as they can cause side effects, and your best bet is to rely on products that use essential oils as an ingredient instead of using them alone.

Essential oils in small quantities, paired with other effective acne-fighting ingredients, can aid with killing bacteria and calming inflammation, and as such, help treat acne effectively.

Exposed products include essential oils such as tea tree oil and sage extract along with other natural actives in combination with the best science has to offer for a safe, affordable, and effective home treatment experience.

We do not recommend using essential oils in their carrier oils directly on your skin. Using products that use gentle amounts of the best essential oils matched with other active ingredients can ensure that you don't unintentionally damage your skin.
Essential Oils You Can Trust (as Ingredients)
Let's be clear: We aren't anti-essential-oils. We're just pro-using-essential-oils-correctly.
If you purchase pure essential oils then apply them to your face, even with a carrier oil, you can damage your skin and cause further redness, bumps, and irritation.
Essential oils are best used for treating acne as ingredients in products that also offer other, healthy, research-backed ingredients.
So, instead of seeking out essential oils, seek out products that use essential oils in a responsible way.
No Single Product Will Cure Your Acne Alone
Acne has various causes.
In order for acne to form, there must be a perfect storm of inflammation, excess oil production, acne-causing bacteria, and clogged pores.
Many products may treat one of those issues. But if you're going to get rid of your acne, you will need to treat all of those causes simultaneously.
Essential oils are often used for their anti-bacterial and anti-inflammatory properties, but bacteria and inflammation reduction only resolve a few of the many causes of acne.
You need multiple ingredients that come at acne from all angles.
For example, we at Exposed Skincare use essential oils in our products, but also many other high-quality ingredients from both scientific and natural sources.
Plus, we only chose to include essential oils that have enough scientific literature backing them up. Many essential oils are unfortunately only supported by anecdotal evidence, so we didn't include them in our products.
There are also some essential oils, such as lavender essential oil and Frankincense oil, that do have healing properties, but they are extremely fragrant, so we left those out as well.
Let's go over the essential oils that we can vouch for, and we'll explain why we trust them.
Tea Tree Oil
In a 2017 study, researchers found that those who applied tea tree oil to their skin experienced significant blemish reduction over just 12 weeks. Other studies have also demonstrated that tea tree oil is, in fact, an effective treatment for acne-prone skin.
Tea tree oil is a fabulous essential oil not just for acne, but also for overall skin health and wellness.
Tea tree oil works for acne for two main reasons:
It can penetrate the skin and kill bacteria.

It is also a natural anti-inflammatory.
But as studies have demonstrated, tea tree oil works best when used consistently, and when used in conjunction with other effective, acne-fighting ingredients.
As we said earlier, acne has various causes, so it also needs various solutions.
Acne Treatment Serum with Tea Tree Oil
The Exposed Skincare acne treatment serum uses tea tree oil as one of its main ingredients to disinfect the skin and treat blemishes.
The serum also has ingredients like benzoyl peroxide and green tea extract. These ingredients are powerful together because as the benzoyl peroxide treats acne, the green tea and tea tree oil calm the skin and prevent further inflammation.
That not only prevents more acne in the future, but also offers a holistic and gentle way to promote skin health in general.
Sage Extract
Various studies have shown that sage can work as both an anti-inflammatory and antioxidant.
There is also evidence that sage can lighten your skin, and thus potentially treat acne scars or sun spots around your face.
As an anti-inflammatory, sage can prevent irritation and redness. It can even combat the dryness that may come with starting a new acne treatment.
Sage Extract Facial Cleanser
Salicylic acid is tough on acne, but it can dry out your skin or cause irritation (and thus, more acne) if it isn't paired with other natural ingredients.
That's why we use sage extract in our facial cleanser, along with salicylic acid and Pro-Vitamin B5 for optimal skin health.
Conclusion: How to Use Essential Oils for Acne? Be Very Careful.
Natural products like essential oils are quite in style right now, but just because they are natural, that does not mean that you don't need to be careful about what you put on your skin. There are plenty of things in nature that can be hurtful, especially in excess.
Life is about balance. By using products that were designed to include both the benefits of nature and science, you can take advantage of both without using either in extremes.
So before you slather your face up in essential oils, consider first seeking out products that use the benefits of essential oils without overdoing it.
To learn more about our kits, click here. We've designed them to not only work against acne, but also to promote your overall skin health, keeping it hydrated, clear, and clean.
Essential Oils For Acne FAQ
Is jojoba oil effective in the treatment of acne?
A 2012 study found that treatment with a clay and jojoba oil facial mask can reduce pustules, papules, cysts and comedones as well as improve quality of life for those suffering from dermatological conditions such as acne vulgaris.
The anti-inflammatory and antibacterial properties of jojoba oil were also noted to be beneficial in treating this condition.
Is lavender essential oil useful in the treatment of acne?
Lavender oil has been found to have anti-inflammatory and antibacterial properties, which can be beneficial in treating acne.
Studies have shown that lavender essential oil is effective at reducing the size of enlarged sebaceous glands, thus controlling the production of excess sebum, which contributes to acne lesions.
Additionally, it may help reduce inflammation associated with skin conditions such as dermatitis or eczema by inhibiting leukocyte migration and edema formation.
Lavender also exhibits antimicrobial activity against certain bacteria involved in causing acne, including Cutibacterium acnes (C. Acne) and Staphylococcus epidermidis (S Epidermidis).
Can peppermint oil help treat acne effectively?
No research has yet been performed to determine whether peppermint essential oil can help treat acne specifically.
A 2019 study found that peppermint oil is anti-bacterial and was found to be effective against several multi-drug-resistant or extensively drug-resistant Gram-positive and Gram-negative strains of bacteria.
Since acne is partly caused by bacterial overgrowth, it's reasonable to assume that it could have a positive effect on acne. More research is needed, though.
Will any essential oil treat acne effectively?
As we mentioned earlier, no essential oil alone will effectively treat acne. There's good reason to be careful with putting essential oils directly on your skin. They are very concentrated chemicals essentially, and as a minimum, they should be dissolved in a carrier oil such as almond oil.
But even then, you should be careful, especially if you have sensitive skin or oily skin. But even with dry skin or normal skin, the carrier oil could turn out to be comedogenic, making acne worse.
Not what you want!
Acne breakouts are complex and need a multi-pronged approach. That's what our complete acne treatment system offers. A spa-quality, super-efficient acne treatment protocol that we guarantee will deliver results quickly.
Forget about the inconvenience of messing around with essential oils, clay, and whatever else someone may think of mixing together.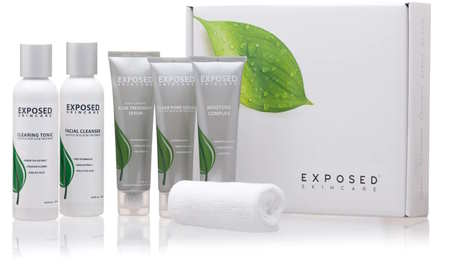 Whether it's frankincense oil, rosemary oil, oregano oil, lemongrass oil, lemon oil, geranium oil, clary sage essential oil, or any of the many essential oils you can think of, even the most effective essential oils on their own don't hold a candle to a proven treatment system in terms of fighting acne. 400,000+ people can't be wrong!